| | | |
| --- | --- | --- |
| Sangkan Indah Hotel | | |
: 2010-06-26 15:44:00
: 5611 total view
: 0 comments [+] leave comment
Sangkan Indah Hotel
Jl. Raya Sangkanurip Komplek Pemandian Air Panas Alam No.304
Desa Sangkanhurip Cigandamekar, Cilimus
Phone: +62 232 - 613191, 613378
Fax:
Kuningan - Jawa Barat


More Information: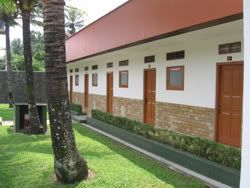 Sangkan Indah Hotel is located 23 kilometers from the town of Cirebon on the foot of Mount Ciremai. with cool and fresh air, is an ideal place to relax while using the natural hot springs.


Hotel Facilities:

13 double standard rooms / of triple, 6 double superior rooms / of triple, 2 double Deluxe rooms / triple and two villa is equipped with a bathroom with natural hot water and cold water from mountain. Private terrace with dining room, color TV with satellite dish channels and video programs. telephone with SLI / long distance and Facsimile, refrigerator / mini bar. AC (deluxe and Villa).

Restaurant seating capacity 135

Laundry

Services delman

Natural hot water swimming pool and a pool of cold water from pedunungan.
This hot spring water comes from mountain Ciremai.Suhu is 46 * C, having flown to the pool and into every hotel bathroom fell to 36 * C-42 * C, hot water contains various mineral elements, especially iodine and trace elements nutritious for the body to loosen muscles, effective against rheumatic penyaklt and destroy excess fat.

Object tourism
- 3 km park recreation building and negotiations Linggarjati Linggarjati
- 4 km of fish ponds and wells sacred seven Cibulan who is believed to bring luck, health, blessings and prosperity.
- 12 km museums Cipari, Cigugur the objects and the prehistoric archaeological relics 3500 years BC.
- 16 km Gua Maria Fatima shrine Cisantana Cigugur Cigugur and Parish.
- 24 km Palace Kesepuhan, is an ancient sultan's palace in Cirebon are equipped with antique objects of stunning 15th century.
-25 Km tourist objects Wasuk Darma
-28 Km Trusmi cirebon, famous for its batik-batik is very unique in traditional Javanese patterns.